Are Plantation Shutters Out of Style 2023?
The short answer to this question is – No.
Plantation Shutters are still very much in style for 2023. As a window treatment that dates back to the Middle Ages, it is the longest lasting window treatment design trend. Starting out as a solid piece of wood, it eventually changed into a louvered shutter during the 15th century.
The initial shutters were mainly there to provide protection and security from outside elements as well as providing ventilation during the warm summer months.
Fast forward to today, interior shutters still provide functional value, but it is also a design element to the home. While you might still think of plantation shutters as a dark cover up with many small slats filling up the window, creating the feeling of "being shuttered in". This is no longer the case.
Today we can provide several different slat sizes, designs and colors to match the modern look of today's interiors.
What are the pros and Cons of Plantation Shutters? 
Shutters are customizable
SunCoast Blinds shutters come in three different louver sizes; 2 ½", 3 ½" and 4 ½" wide slats. Depending on your size you will see a huge difference in view, natural light intake as well as how well they block out the light in closed position. It will also determine if you're going for a more traditional or contemporary look in your home.
Other customizable features are color, and tilting mechanism options. For example, if you want to go for the more traditional look you might prefer a tilting rod in the front of the shutter, while a contemporary look would use what we call clear-view. Learn more about the design options available here. 
Shutters improves the curb appeal and increases the value of your home 
Shutters add a finished look to your home and look fantastic from the outside. Not only does it create a good first impression, it is also proven to sell your home faster, and is the only window treatment that is considered a permanent improvement to your home.
Most durable window treatment available 
Shutters built to last a lifetime. They are easy to clean and will require little to no maintenance. There is no fabric that will tear or get dirty, you just wipe down the slats and you're good to go.
25-year warranty
Shutters generally comes with a warranty. At SunCoast Blinds we provide a 25-year warranty with all our shutters.
Tax free products
As a consumer, you do not pay sales tax on your plantation shutters. This is due to the fact that plantation shutters are considered a permanently installed home improvement.
Safe option for kids and pets
Shutters are cordless and provide a safe solution for any home with pets or children.
Energy-efficient 
Most window coverings are created to provide some kind of function outside its look.
Plantation shutters are very effective at keeping heat out during the hot summer months, which is basically year-round for us Floridians. It will equally trap the heat inside during the cold winter months proving an excellent insulating effect.
A maybe more surprising element to shutters is how well they keep road noise out. It might not be the main solution to the noise problem but it is definitely a bonus feature.
So, what are some of the cons?
Shutters are an investment 
Shutters are not the cheap way to go. Buying plantation shutters is definitely an investment.
They can't be moved out of the way
Unlike roller shades or blinds that you can pull up out of the way, you can't move shutters for a "clear" view. Once they're installed, they're there.
Furniture location can inhabit use 
To allow full rotation of your louvers you need to make sure there is clearance from any furniture or bulky window jambs.
In some situations, tilt-in windows can be inhibited by shutters
Tilt-in windows can be inhibited by plantation shutters depending on design choice. During your consultation with a shutter expert this is something that should be discussed and addressed accordingly.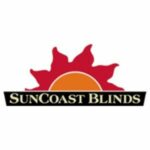 SunCoast Blinds is a family-owned, full-service window treatment company based in Bonita Springs, Florida. Since 1992 we've been providing elite customer service and superior window fashions to our local area of Bonita Springs, Estero, Naples and Marco Island.
Today we also have franchise in Fort Wayne, Indiana.