8 Reasons Why Outdoor Shades Might Benefit You
Outdoor shading systems are a versatile solution allowing you to utilize your outdoor spaces whenever you desire.  Some days it is too hot, and some nights is too cold, outdoor shading systems can provide the balance, making it cozy all year long.  
While increasing the value of your home they also increase the value of your daily life. At the push of a button, you can control your outdoor elements.  They are so easy to operate, that anyone in the family can use them! 
With a wide selection of materials to use, the perfect solution will be custom-tailored to your specific needs.  Some items to consider will be air or light flow, water or rain concerns, and of course privacy issues. 
Here are 8 benefits of outdoor shades for your home:
Protect from the heat or cold
The most obvious reason that comes to mind when considering outdoor shades is the protection they provide from heat and cold. Weaving the fabric to a tight enough density can prevent the heat from entering your space during those dog days of summer.  Similarly, the same can said for those long cold winter days, simply drop the shades down to keep the heat from escaping your patio.  Outdoor shading systems work like magic, giving you a whole new living space outside the four walls of your home.   
Protect from insects
People love spending time outdoors, but even the most outdoorsy person will tell you that insects rarely improve their experience. When deployed outdoor shades will allow you to eat dinner outside without insects eating you. Imagine using your outdoor shades and enjoying a beautiful sunset, free of swatting at insects or having to chat about who has the best bug bite remedy.
Increase your privacy
Are your neighbors too close for comfort?  Robert Frost once said, " Good fences make good neighbors." Unfortunately for most of us, fences simply are not an option.  That is where our outdoor shading systems come into play. Depending on the level of privacy you want, you can go from complete black-out to an open solar screen. No matter the fabric selection, it will create a barrier between you and whatever is out there, making you a good neighbor again. Life is good.
Use them as a secondary garage door
Outdoor shading systems can be used in front of your existing garage door. They can be dropped down while your actual garage door is up.  This will give you a bright and cheery garage space that is private and insect-free. Be it a man cave, workshop, or just a place to give your cars some extra love, you owe it to yourself to maximize the usage of the garage space you currently have.  
Exterior shades are also a great option for your garage door. They provide maximum airflow while you're working on your next project but protect you from insects or dirt flying in from outside.
UV protection
Another benefit of outdoor shades is that they protect not only your skin but also your outdoor furnishings by minimizing the UV rays entering your space. The amount of UV protection will depend on what fabric you choose for your shades. Our privacy and solar fabrics filter between 90-99% of UV rays which is more than adequate protection. Our insect fabrics provide up to 50% UV protection, which is the difference between a sun tan and a sunburn. 
Block the wind
Specific to SunCoast Binds, our outdoor shading systems can handle up to 85 mile-per-hour winds. This creates a fantastic physical barrier between you and the outdoor elements.  Who wants to worry about decor flying around the patio on a windy day when you can deploy an outdoor shading system to save the day? 
Block the rain
Just like our shades protect your living area from winds, they will also protect you from the rain. Once again, the amount of protection you will have depends on what material density you have chosen. Clear vinyl shades will keep you completely dry and are ideal for commercial applications like restaurants.
Bonus benefits of outdoor shades:
Motorized shades as a projector screen 
Exterior shading systems have so many purposes but we have saved the best till last! Our shades don't just have to be practical and solve issues, they can also be a lot of fun. Use your outdoor shades as a projector screen!  Yes, that is correct, they are a giant movie screen. Should you select a lighter color fabric you get to enjoy movie nights with friends and family on a whole new level. Pop popcorn, blow up an air mattress, push down your shades, and enjoy a good time.  Cheers!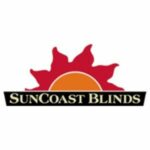 SunCoast Blinds is a family-owned, full-service window treatment company based in Bonita Springs, Florida, and Fort Wayne, Indiana. Since 1992 we've been providing elite customer service and superior window fashions to our local areas.
Learn more about the benefits of outdoor shades and so much more: