How To Select The Best Shades For Your Home
Bigger, Bolder, Brighter Podcast – EP #3
Can't listen to or watch the podcast about roller shades?
No worries, read the summary below.
What are the different types of shades?
In the shading world, there's a tremendous amount of options that you can have to do exactly what the word applies- shading your windows.  But for this podcast episode, we're going to specifically talk about the roller shade segment. Which is by far our most popular type of window shading in Bonita Springs.
At SunCoast Blinds we approach it with what we call, design through education. We don't necessarily cater to the type of client that comes in and asks to dress up their windows in a bunch of window fashions with matching pillows, top treatments, and side panels. This is something we did years ago, but not anymore.
Window treatments for Southwest Florida homes
The clients we work with today are somebody who comes into their unit on Gulf Shore or down on Marco Island, wherever it might be. They fall in love with these big, huge outstanding vistas or views across the bay, the Gulf of Mexico, or a golf course. That wide-open outdoor living space is what brings hundreds of thousands of people a day to the state of Florida. We just love it. Moving into one of these places, that's the dream, right?
But when we moved into the new home, we realized southwest Florida is part of the Sunshine State, and the Sunshine State has that name for a reason. We have a lot of sun hours and that becomes a negative issue. All those beautiful windows bring in the light, UV rays, and heat penetration thoroughly. The thermal inefficiency and the glare on your eyes are some of the problems those big windows create. And SunCoast Blinds attacks these problems.
Generally, the benefit of the roller shade is the dynamic of it. When not in use, it's going to contain itself up at the top into a fascia or cassette. And when it rolls down, it does its job. Typically speaking, it's gonna be motorized so you just push a button. When you no longer need to shade the window, you roll it back up exposing all the reasons why you live in that place. Even when the shade is down, you will be able to see your view. We don't want you to remove the reason you moved there in the first place. So that's where roller shades come into kind of fill that unknown problem of living in the Sunshine State.
How large can you make roller shades?
That's one of the things that make SunCoast Blinds relatively unique. This goes back many years. I realized that the windows were getting bigger. You know, if you go back to 20-40 years you had little itty bitty tiny windows, short ceilings, and small rooms. Mom was in the kitchen, nobody could see her cook. But now we have open floor plans, our windows get bigger, and Mom is not the only one in the kitchen anymore, instead, everybody's cooking. Today we're all hanging out in the kitchen, looking at our big sliding glass doors. So the lifestyle has changed. And with that becomes bigger windows.
How am I going to accommodate this ever-increasing appetite for light and window size? That's where shades make sense.  And that's where we fit ourselves into what I consider a monster shade specialist. Without any tricks, I can get 16 feet wide with our shades. I even have systems where I can go as wide as 30 feet. And in doing so you're eliminating gaps. You're also eliminating multiple moving parts and boiling down the shading aspect to its purest essence. The essence of doing its job, without the visual distractions and multiple problems that come with doing smaller shades like our competitors.
Are the shades from SunCoast Blinds custom-made?
Yes, all our shades are custom-made. There is nothing like a standard size. We had one client of ours who lived in one of the condo towers in Bonita Bay where we couldn't fit one of our monster shades into his unit with conventional means.
To be able to bring up the shade to his unit, it would have to be a foot short of the goal, which he didn't find acceptable. So he hired a crane company to help us bring up his shade 24 floors, on the outside of his building. This does not only take a special client, it also takes a special company willing to execute that level of perfection. That monster shade specialist fits us into a category where we just don't have any rivals.
Where should I use roller shades?
Large windows with a view
The best application for roller shades is going to be on larger openings.
But anywhere where you want to have an unfiltered view. It will most likely be a window where the view is the most important aspect of that window. You're not just looking to keep the natural light coming through but to see the details of what's going on outside.
Everything else that we do, whether that would be plantation shutters, silhouettes, or zebra shades, all those things have a certain focal point to them. They create a certain ambiance.  With roller shades it's different. They have their functionality and then they have that disappearing effect.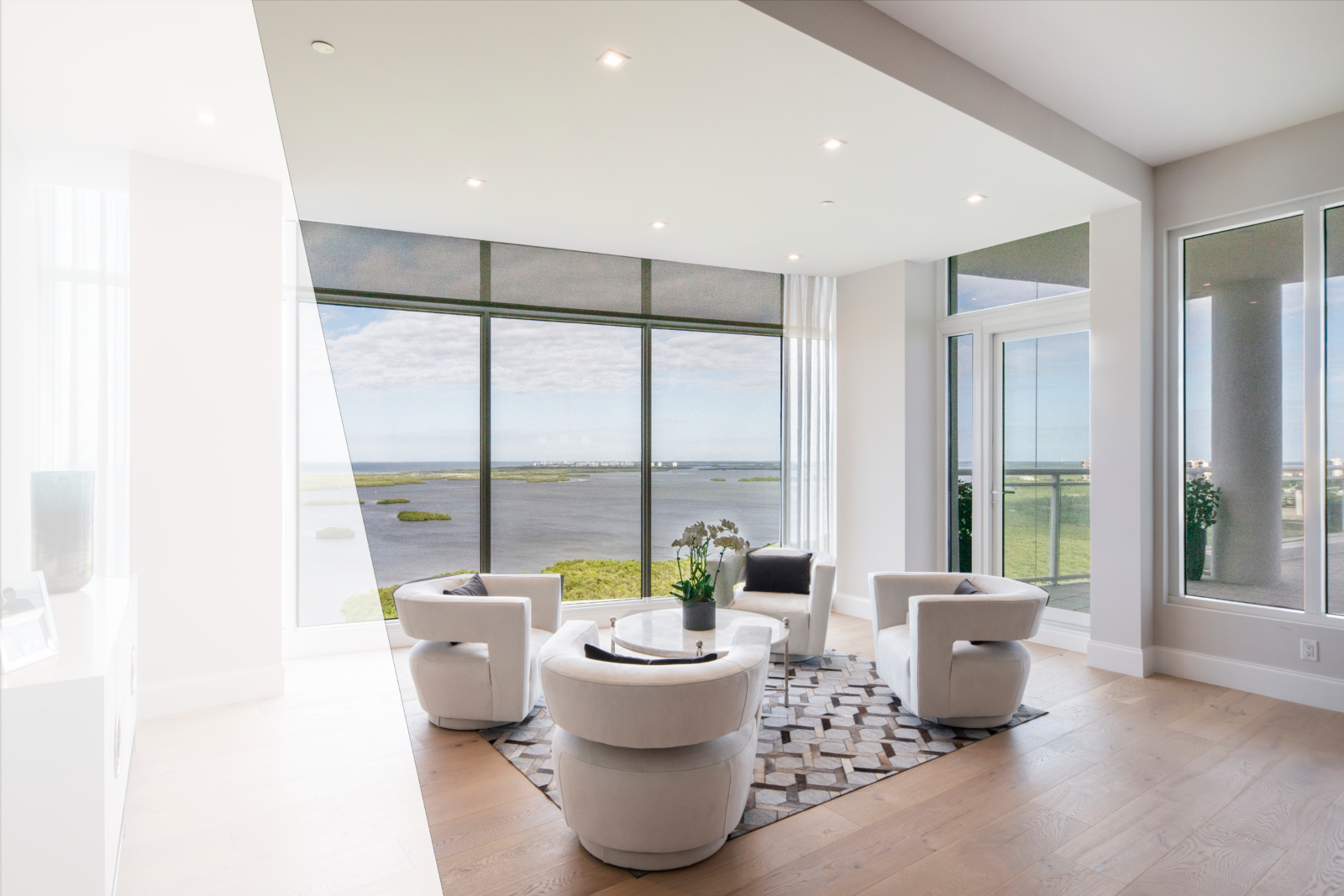 Room Darkening Shades
The second best application for roller shades is when you're going for room darkening shades in bedrooms. Take as an example a bedroom where you feel you're relatively private during the day. Maybe you're on an elevated floor or your estuary is surrounding your homestead, so you don't suffer from people looking in. Well, you're still gonna want to get a good night's sleep, and you might even want to sleep in the morning. With a simple push of a button, you will make your room dark allowing you to sleep, no matter how harsh the sun is shining outside your window.
Better Sleep with blackout shades
As the business owner of the product, you don't want to tell people that shades are going to be life-changing.  It sounds a little bit like an exaggerated story, but it is absolutely spot on. When you give somebody the ability to do what they want to with the light, when they want to do it, how they want to do it, it is game-changing.
You can make somebody who just hasn't slept well, for a decade, we give them dark and roller shades, and the very next phone call has been I can't believe what this does.
I mean, even if you're in an area that is primarily, secluded there's still going to be the street lights and full moons, etc. There's going to be some form of natural light sipping through the window. Room darkening shades will eliminate this, providing a much better sleep.
What's the best fabric for screen shades?
There are different fabrics for different applications. It depends on what you're trying to accomplish. This will be the determining factor of what fabric we're doing to use. Our fabric will however come from a company called Mermet.
A couple of things we love about their fabric is that: they're based in South Carolina. This is the actual location from which they weave their fabric. Their fabric is considered the Ferrari of fabrics, there is not a better fabric for your roller shades.
So when we say that our shades are made in America, assembled in America, there's no caveats to all of that. Our fabric originates in South Carolina, while our shades are assembled in Orland, Florida, and then shipped down to us. Working with local manufacturers allows us to have a little bit better control of our supply chain, allowing shorter turnaround times.
The second main reason we love Mermet is the quality of their material of fabrics.
The fabric we use all has a fiberglass core. Watch this video to learn more. 
Unlike the shirt you're wearing that has a polyester cord, which allows your shirt to be stretchable and movable. To a shade, these are all negative things. This fabric is going to be on a roller-free hanging for five to 20 years, right? That polyester core, which is what most other fabrics on the market are made out of will stretch the fabric over time. Especially being exposed to Florida heat.
Instead, a fiberglass core won't allow the fabric to stretch. So we'll use that as a core basis of our fabrics. When that shade hangs in your window it will look as good on the day you move as it did on day one. And that is the best factor for us.  Eliminate service calls problems and because I have faith in what I put in people's homes.
What's the best color for shades?
Colors are a lot of fun. So we approach color a little bit differently than what most would consider.
When most people talk about colors, they refer to their interior design. They will look at their wall colors or other decorating elements and try to match them with their shades. This is not wrong. And we do still consider those things. But, the first thing I will ask my clients is: "How do you value the view-through?"
Color determines view-through on a level that people simply don't realize. It's a fun experiment I do in our studio at 3634-A Bonita Beach Rd, Bonita Springs. After we've talked about the solar control, the light problems, and all those things, I roll down two identical shades next to each other, but one is in a darker tone and the other one is a lighter tone.
Your visibility through a darker/black shade is far superior to anything you're gonna get on the lighter spectrum of colors. So if you're looking to accomplish those things we talked about earlier in the podcast, and still see out your window, I'm going to steer you ever so gently toward those darker-looking shades. Because you can see proper pixelated images through the darker shades.  You can watch dolphins jump in the bay, through black shades, while through a lighter shade, you might see a little bit of a water ripple but not know what's going on underneath there.
So, if your number one value is view-through after solar control, you should go darker.
After all this, we can talk about how it's going to blend in with your decor.
So outside the black and white scale, we've got an array of colors. Gray, linen, white, orange, I mean, we've got all the color options you can ask for. But again, we want to make sure your color option also provides all the functionalities you need.
Motorized shades
I remember 15-20 years ago when this man tried to sell me on the idea of shade motorization. He told me how it was going to take over the world, and I looked at him puzzled thinking it probably won't happen. The guy's name was Tom and he looked me dead in the eyes and asked me when was the last time I lifted my garage manually. That was a big aha moment for me.
And his statements have come true since. Today, about 90% of all the shades we do are motorized. Once you've experienced motor on a shade, you're not going back to manual shades. Currently, the United States government is pushing through a new law where cord loops will no longer be an option due to child safety reasons.
Previously, we've been able to use anchors for child safety purposes, to avoid any children from putting their heads in the loop. But the government isn't trusting companies to do that anymore.
This will leave us with two options for shade operations: cordless or motorized.
Cordless shades
Cordless sounds like a fantastic idea. But it comes with a problem. You need to be able to touch the shade through its full range of motion. A lot of people aren't 10 feet tall and their windows start at 10 feet at the top. So if you can't reach the top of that shade once it gets up there. To move it down, you're going to have to go with a ladder, which is admittedly not the most convenient thing.
So that's gonna continue to push that drive towards motorization for the last 10% as well.
After all, motorization is one of those simple luxuries of life.
Making Your Home a Smart Home
What can you do with your shades from an automation standpoint?
First and foremost, to be fair to my future buyers. I do try and keep it simple. Simple automation keeps troubleshooting in the future simple.  But ultimately, you can buy a smart hub for your shades. The smart hub allows you to integrate your shades with your smart home technology. This allows you to put your shades on timers, see what position they're in when you're away from home, and also allows you to operate your shades from anywhere in the world. You can also connect it with Alexa or Google. This makes your shades and your motors so much more than just shades and motors.
How do you clean roller shades?
This depends on the fabric that you have.
So with our fiberglass shades, which is what I've been talking about this whole time, the cleaning is quite simple. It's a durable, outdoor-rated fabric and a simple dusting is going to take care of that without any problem. Soap and water solution is going to take care of any soils or things you get out of them. So easy home care for our a-game shades.
If you buy other shades from us like silhouettes, laminates, or other types of shades with a more delicate fabric, you're going to want to have an on-site drapery cleaner come and clean those on-site professionally.
What's the warranty on SunCoast Blinds shades?
So for the roller shades we've been talking about today, we're gonna put a lifetime warranty on your shades.
If you have something wrong with your shades, the materials, or the mechanics of them, we're going to fix those without charge.
Our rechargeable motorization is going to have a 5-year warranty at this point, which is a bulk of what we do for motorization. The motor life expectancy is 10-15 years, so just because our warranty doesn't expand beyond 5 years, doesn't mean you're going to have to purchase a new motor every six years.
But the key is, that warranties don't matter. What matters is buying a product from a company that doesn't want to give you a problem to where you have to exercise your rights in that warranty. I don't want to put you on my speed dial. I don't want to have you call me for problems. So my selfish ambition as a business owner is to put a product out there in the world to minimize those phone calls.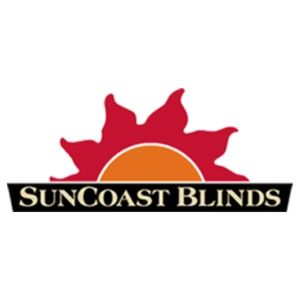 What do I have to consider before buying shades in Bonita Springs?
One of the things that you need to keep into consideration when thinking about your shades or window fashions, in general, is that most people in southwest Florida do live in an HOA. This will many times restrict you on the exterior colors. At SunCoast Blinds we have a little trick where we can make all our shades white on the outside, no matter what color they are on the inside. So you can conform to those HOA rules and regulations.
Thanks for listening to a BIGGER, BOLDER, BRIGHTER podcast with SunCoast Blinds.
To learn more about our company or our products, go to SunCoastBlinds.com
Call 239-495-6558
Visit our studio at 3634-A Bonita Beach Road SW, Bonita Springs Florida
Open Monday through Friday 9 am to 1 pm.