Get to Know SunCoast Blinds 
Bigger Bolder Brighter Podcast – Episode #1
Can't listen or watch the podcast?
No worries, read transcript below.
Charlie McDermott
– Welcome to episode number one of the Bigger, Bolder, Brighter Podcast. I'm Charlie McDermott, co host of the show. But the most important fact here is that we have the owner, Ben Crotteau. Ben, how you doing?
Ben Crotteau, owner SunCoast Blinds
– Doing great, yourself?
Charlie McDermott
– I'm doing terrific Ben, and Congratulations. You know, the toughest episode is always the first one. And I think it's the most important one, simply because there are a lot of options out there in the world of blinds. I've always found that you want a company that is going to provide an awesome service and always be there for you.  You've been here for quite some time serving the folks of Southwest Florida. So Ben, let's start first.
I know we have listeners who already know you and know your company, but for those who don't. Please, tell us about SunCoast Blinds.
Ben Crotteau, owner SunCoast Blinds
–  SunCoast Blinds is a locally owned business based in Bonita Springs. We do high-end window fashions- plantation shutters and automated window shadings. Basically anything that's going to stop the light and peeping eyes from coming into your house. And we try to do it with a little bit of style and modern updates. The big thing that is going to differentiate us between some of our competition is the level of service that we can provide. We've been around since 1992. We really feel like this is our home and we try to treat everybody as if it were our own home.
Ben Crotteau
Charlie McDermott
– You talk about being involved in the company that has been around since 1992. So you really think you've grown up in the business, right?
Ben Crotteau, owner SunCoast Blinds
– Oh, yeah, literally. My mother and father separated when I was younger, so he came down to Florida and I lived up in Indiana.  I was coming down to Southwest Florida back in the early 90s. When he started this up, and I worked all summer long hanging vertical blinds and mini blinds at people's houses or little condos down in East Naples. It was a different business back then. But yeah, since I was 13-14 years old I've been doing this in some way, shape or form.
Charlie McDermott
– So talk about working your way up. I mean, you've done everything in the business probably, including emptying trash cans, helping with the install then to do the install. So you have done it all.
Ben Crotteau, owner SunCoast Blinds
– I think working your way up, it's kind of funny to say that because, when I was younger, I wasn't as tall as I am now. So my job was literally all the stuff on the floor. So back in the day, you had the little chains that you put on the bottom of vertical blinds. That was what I was able to do, because I could reach. But I couldn't hang stuff up on top of the window. So as I grew up, I literally worked my way up the windows and in the business. So absolutely. It's not just a metaphor. It's a literal translation of how I've grown with the business and with the company.
Charlie McDermott
– That's awesome. Do you still have the location up in Fort Wayne?
Ben Crotteau, owner SunCoast Blinds
– We do, we have a franchise location. That's a friend of mines store, actually, up in Fort Wayne, Indiana. So he has the SunCoast DNA in him up there as well. It's working out pretty good for him. It's taken some years, but he's doing pretty good.
Charlie McDermott  
– Yeah, that's business, right? We're all still as business owners looking for that business way where you just hit switch and you're instantly successful. But it takes a lot of  hard work and time, right?
Ben Crotteau, owner SunCoast Blinds 
– My wife Pernilla, she's in real estate and with all the real estate memes I think I remember one about how somebody's not willing to work six months for free to try and fulfill their dream but they'll quit that job and go back to work at McDonald's for $15 an hour. I mean, the math doesn't make sense.
You got to put in the time to get somewhere and being at it for as long as we have. We're at a point where we've got an established customer base, we've got an established reputation and people know who we are. Some people would think that's a blessing, but it's a lot of work to continue to maintain who you've been to all these people for all this time. As well as continue that level of service and execute. So, we didn't hit switch on.
"Instead, every day we come to work and you got to perform for every single one of your clients.
For some clients in the showroom, that day is the first time they bought window treatments in 20 years."
You know, I can be that touch point person, one time in 20 years for somebody. How many things do you buy with 20 year intervals? So it's a very important decision making process that can have a generation of impact for your house.
Charlie McDermott
– You mentioned the showroom. You guys have such a neat showroom right there on Bonita Beach Road. I know you do both;  your clients can either come into the showroom, or you can actually go to their home or office, right?
Ben Crotteau, owner SunCoast Blinds 
– Yes, so it's almost a 50/50 split with my day. As far as the schedule goes, when some people look at our website and see we're only open to 1pm. Well, it's true. So the showroom here is open to 1pm weekdays. And then after that it's not that I go home and have a beer, instead I go out and see clients. I go to their homes, I do the measures, I do the designs and those sort of things. So you got your first half of the day to come here and see me and the second half of my day I'll come and see you.
Charlie McDermott 
– Awesome. So you've got, obviously the Southwest Florida market. Yet you're doing this podcast to help people which we talked about off mic. Because, you know, at the end of the day, it's all about giving back. If not all of our listeners can see what's behind you. There is a picture saying "change your thoughts, and you'll change your world".
 I love that about you and Pernilla, let me put it this way: you operate in a higher elevated universe. Is that a good way to put it? You know, it's not all about the me, it's about how can I help people? And I think that speaks volumes to what you're doing.
But I'm going to ask you why the podcast?
Ben Crotteau, owner SunCoast Blinds
I tend to give cheap generic answers, but you know- To get the word out there. But it's much more than that.
Lets go back to that client that literally came in today for the first time in 20 years.  You're going to run into people who don't necessarily want to become window treatment experts just to buy a couple of Plantation Shutters or buy a shade for their windows, but they want to be comfortable with that person.
Understand that the person being the expert, is an expert enough so you can trust what we're saying. That's the a difference.
I don't want to beat down on China. But there's a huge China market for window fashions and it is sub tear, right? But it looks very similar to some of the stuff that we're going to put out there. There's a huge gap in the quality difference between those two. And somebody might not realize those things for one year, three years or five years when the deterioration starts to happen. So do you trust who to gives you the information?
"I've got vendors that don't know the difference between product A and product B.
And that's what they're out there trying to give the guys like me.
So you've got to find somebody who you trust, to filter through those processes."
And if it's a podcast, if it's an advertisement or if it's a letter we send you in the mail. It's less about advertising for you to get our business. It's more about advertising, to build that trust that we're not going anywhere. We're right here. And we know the difference. You don't have to.
Charlie McDermott 
– That's huge. Which then leads me to the next question, which is, what do you have in mind?
Ben Crotteau, owner SunCoast Blinds  
Well, we'll see what the demand is. I think some of the more interesting stuff that somebody would want to get through is basic design, our concepts of why we put certain things in certain windows and get in on some education on the materials that we prefer to put in people's windows. And of course, some of the things that we absolutely won't do. It's not uncommon for me to tell a client No. I'm not going to make the same mistake three times, I might make it twice, but I'm going to try not to make it that third time.
So, I think in the future we can look forward to some of that. Less about me, less about the company and more about the specific products and the reasons why you would do one versus the other.  I think that could be very helpful.
Charlie McDermott 
I think you did it. The first podcast in the can. Congrats Ben. You're awesome. We will see you in episode 2 real soon.
Thanks for listening to a Bigger, Bolder and Brighter Podcast with SunCoast Blinds.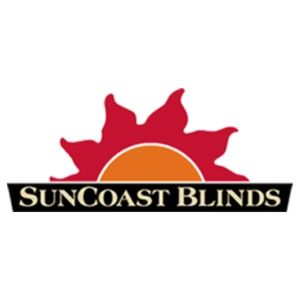 To learn more about our company or our products, go to SunCoastBlinds.com
Call 239-495-6558 or stop by our studio at 3634-A Bonita Beach Road, Bonita Springs, Florida.