When should I choose Plantation Shutters
for my home?
Can't listen to or watch the podcast about roller shades?
No worries, read the summary below.
When are plantation shutters a good option?
If you had asked me a decade ago, I would've told you that "if you live in Florida and you have a window, it is the best option!" It was a Florida thing. Whenever you walked into a home in Florida, you would find shutters.
Now, we're using them a little bit less than we used to. Today, we usually don't put them on big sliding glass doors or huge picture windows. We want to make sure that people don't feel "shuttered in" as the old expression said. We don't want to close in your space with too many shutters and create too much of a repeating theme where it becomes all you have.
Most of our clientele in Southwest Florida have something to look at out of most of their windows. Whether it'll be a beautifully manicured golf course, the Gulf of Mexico, or a retention pond that serves as a visible lake with wildlife in it. Whatever it is, most clients have a view, and plantation shutters do a wonderful job of framing that view. But the shutters are also going to be in the way.
When plantation shutters are the right choice:
You're okay with looking through the louvers of the shutters 100% of the time.
You value a certain amount of privacy at all times
Light control
The decor and trim of the shutter, and frames in the window are beautiful.
You want to buy window treatments once and be done.
When you want a durable and safe product.
Good light control, unless you want a full blackout.
The pros and cons of shutters depend solely on what you're looking for in a window treatment. It's kind of two sides of the same coin. Plantation shutters are by far the number one product of window treatments for a fit and finished look, that is completed once the shutter is installed. Your initial spend on a shutter might be a little bit more, but you don't need any side panels, top treatments, or anything else to finish the window.
As an example, if you spend $500 on a shutter, that is the last nickel you will spend on the window. If you decide to go with a $200 blind, that is not the last dollar you will spend. You're then going to have to finish the window with top treatment or side panels to add the decorating final touch so the price point continues to evolve.
So there's a huge benefit for clients in Southwest Florida who just want to get in their house, move in, have something that's no maintenance, and be done with it. And that's where shutters live.
Other pros of plantation shutters are that our poly-resin shutters are GREENGUARD certified.
Are there any windows that you should avoid putting plantation shutters on?
Yes. If you've got large picture windows, what I call your money shot. You walk into your house or your condo, you're at the front door and those big, beautiful vista windows face out the back to show off your view. Plantation shutters are not made for those windows. Since shutters live their best life on the window 100% of the time, you're going to compromise your view. And I don't recommend that. Sure, the shutter is beautiful, but it's ruining an even more beautiful view.
Another opening I generally avoid putting shutters on is sliding glass doors except for bedroom sliders. So, if you have plantation shutters in your master bedroom or guest bedroom, that's a fantastic idea. It looks gorgeous. But as soon as we talk about sliding glass doors in common spaces like living rooms or dining rooms, plantation shutters are not the way to go. Why do I say this? The sliding glass doors in bedrooms are generally left closed most of the time, while doors in common areas are used a lot for ingress and egress. In these cases, plantation shutters can tend to get a bit clunky and bulky and not so elegant to move around.
When you should consider another window covering:
You want to optimize your view. You love an open window free from any obstruction.
No big privacy concerns. Neighbors aren't close by etc.
There is not a light, UV, or heat issue throughout most of the day.
You want a total room-darkening product, with no light gaps.
On large picture windows
Large sliding glass doors in common areas
Color choices for shutters
At SunCoast Blinds we typically prefer to use a poly-resin shutter if the window and design allows us to. Our poly-resin shutters are available in three shades of white, a white, an off-white, and an even more off-white. This shade will stay the same throughout the entire lifetime of the shutter. Which is a huge perk of the poly-resin material.
We also do our fair share of wood shutters. As far as color for the wood shutters, the imagination is your limit. We can make them purple, we can stain them, we can distress them. We can do all kinds of different finishes. The consequence that we have to remember is once we start painting a finish that goes into a window it doesn't matter how good the shutter is, it doesn't matter how good the paint is, science is real. There is going to be maintenance down the road.
Are plantation shutters safe for kids and pets?
Plantation Shutters are the ideal treatment for both animals and children.
First, they're maintenance-free. They're also extremely durable. As an example, if your child would take a crayon to the shutter, it could easily be cleaned off with a magic eraser or some mild soap and water. It can also easily be dusted from any dog hair. Unless the child is completely wild, it will be a great option for windows even in their playroom. On top of that, they're safe without any cords hanging around that could cause an accident.
Our poly-resin shutters are also GREENGUARD certified, meaning they're safe enough from any dangerous chemicals to keep in hospitals and schools.
Are customers worried about plantation shutters being out of style?
I think it's like asking if cars are trendy, right?
We're always going to be in a car, but the car is going to evolve. A 100-year-old car is still a car as much as an electric car is today. Nobody thinks a car is gonna go out of trend. It's the same thing with shutters. Plantation shutters go back to Roman times. But throughout its lifespan, it has evolved a lot. When I design shutters today, they look different from the shutters I designed 15 years ago.
Plantation shutters tend to be the chameleon of window treatments in your home. If someone tells me they like the modern, beach look, I'm gonna design it accordingly. We're most likely gonna use 4 1/2 inch louvers, the clear-view option, a bright white, and little to no trim details. If someone would like the traditional style, we might go with smaller louvers, tilt bars, and more details to the frame.
Do shutters fit in any home design?
Of course.
That's the idea of the shutters. With small design differences, we can make sure they fit into any home.
Today we're even able to motorize plantation shutters. It is not widely used because it conflicts with the greatest feature of the shutter, which is how easy it is to operate. But it is a great option for any window that isn't accessible. It's something that was in research and development for years, cause they wanted to make sure that you can manually override the motorization by physically tilting the louvers. It's a long and slow process, but everything is slowly working toward automatization.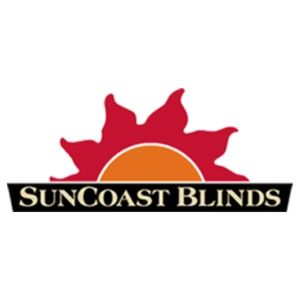 SunCoast Blinds is a full-service window covering store in Bonita Springs, FL.
SunCoast Blinds was established in 1992 and has 30 years of experience in the business.
Get an in-home consultation or visit our studio at 3634-A Bonita Beach Rd SW, Bonita Springs FL 34134
The studio is open Mon-Fri: 9 am to 1 pm
Any questions? Call 239.495.6558