Buy Window Blinds in Bonita Springs FL
Living in sunny Southwest Florida, we know that window treatments of some kind are essential. With the warm sun shining through most days of the year, we need to protect ourselves, as well as our homes and furniture, from its damaging UV rays.
A wide variety of window treatments are available, ranging from plantation shutters to shades, to help us make the most of the sunshine while still preserving our privacy and protecting our homes. Many window treatments are also designed to be energy-efficient, helping to keep our homes cool and reducing our air conditioning bills. With the right window treatments, we can enjoy the sunshine while still protecting our homes and belongings.
Even with today's wide range of window covering options, most people still refer back to the blind. Blinds, also known as horizontal blind, Venetian blind, or mini blind has been a popular option for many years.
Why are horizontal blinds so popular?
Custom window blinds are a cost-conscious and versatile option for almost any window. It can be pulled down to cover the entire window when needed or stacked at the top when you want to enjoy your view. With a simple maneuver, you can also tilt the slats for light control.
Horizontal blinds also offer a large variety of design options, making them versatile enough to fit into any home decor.
Material Options for Horizontal Blinds
Wood Blinds:
Our wood blinds are made from kiln-dried basswood and create warmth and beauty for both homes and businesses. They are lightweight allowing for larger sizes while being naturally sturdy. All our wood blinds are Greenguard certified.
Faux wood blinds:
Faux wood blinds provide an elegant, natural look of a wood blind but are durable enough for humid spaces like kitchens and bathrooms. Faux wood blinds are a great option for someone looking for quality products on a budget. With a large selection of colors, there is something for everyone.
Aluminum mini blinds:
Mini blinds are a good option if you want to minimize the space they take up when stacked at the top. They are very lightweight allowing for large spaces to be covered. One downside of the famous mini blind is that it is likely to bend over time leaving your flat slats, not so flat anymore.
Slat Sizes
Blinds are available in three different sizes: 1″, 2″ and 2.5″. A larger slat will allow the blind to be darker when closed, as well as let more light in when open. Another benefit of a larger slat is that there are fewer slats to obstruct the view outside.
Another determining factor of the best slat choice is the mounting depth of the window. But don't fret, this is where design consultants at SunCoast Blinds will handle the measuring and installing to provide the superior product for your specific situation.
Operation
Cordless lift: This refers to a mechanism that allows you to raise and lower window blinds without using a cord. Our cordless controls make operating your blinds a breeze. All you have to do is push down on the bottom rail to lower the blinds or push up on the bottom rail for a full, unobstructed view.
In a household with children and pets, you want to remove any cords to avoid accidents from happening. This is where the cordless lift is a great option. The downside with cordless lift is that it limits you from moving the shade beyond the height that you can physically reach yourself. Making it a not ideal option for tall windows.
Wand Operation: Wands on window blinds are used to change the angle of the blind's slats to alter the amount of light entering the room. The wand is twisted to rotate the slats and control the brightness and privacy.
Valances
Our blinds come with a valance selection from simple clean modern boards to decorative valances. These valances are located at the top of the blind to hide the hardware at the top, creating a finished look. Depending on the valance, the size varies from 3″ to 4 1/2″ wide.
Cloth Tape
Another way to add a unique design to your blinds is cloth tape. This is a piece of vertical stripes of fabric tape added to the blind to cover up the blind string. The main reason for cloth tape is decorative. However, they do help to add support to the blind and prevent additional light leaks.
If you want to add cloth tape to your blinds you can decide to match your tape with the blinds or you can decide to use a contrasting color for an extra design element.
Work with a Window Treatment Specialist in Bonita Springs FL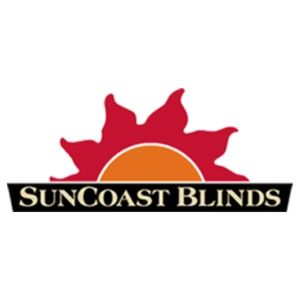 SunCoast Blinds is a full-service window fashions store in Bonita Springs FL since 1992.
Visit our showroom or schedule one of our free in-home consultations to start your journey today.