Are vertical blinds still in style? 
Do you need window treatments in your home and considering to install vertical blinds? This is the warning post for you!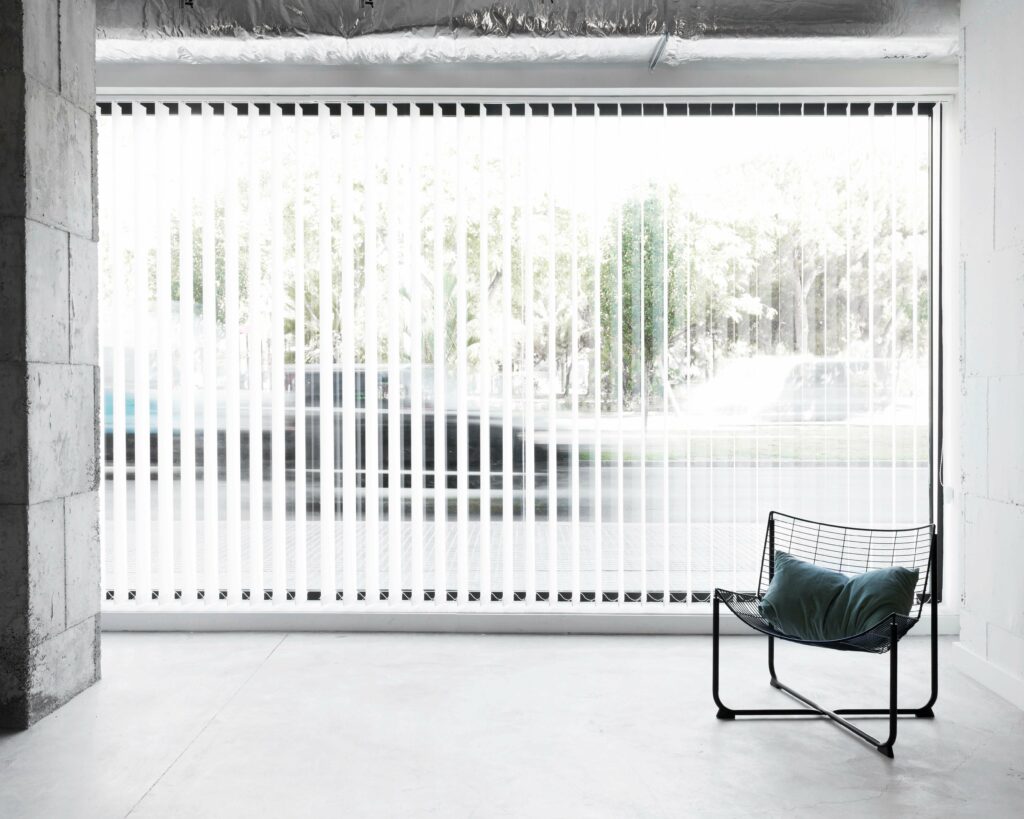 Vertical blinds are still somewhat popular within the window treatment industry. Even tho they reached their prime time in the 90's, we occasionally get the request to install vertical blinds from clients.
First of all, at SunCoast Blinds we work with a design by education approach. What does that mean? In addition to achieving the look our clients ask for, we also make sure the window treatment has the functionality needed for their space. Depending on the opening, this can be light control, heat control, privacy or a design element. By educating our clients, we can show them what products would serve a higher purpose for their space. Compared to a lot of other companies that will sell any product the costumer ask for, we believe that making a more educated decision will lead to happier clients. This is why we only use superior products, which has proven will stand the test of time.
As a window treatment company that has been around over 30 years, we will NOT sell or install vertical blinds to our customers and here's our reasons why:
Save yourself the head ache of repair and service calls
It doesn't matter what level of quality your vertical blind are. They will require service calls, yes plural. If you don't believe me; look at the most common search results from Google search:
Why is this the case? 
Vertical blinds has three "weak" spots on each vane. Vanes are the slats attached at the top of the valance, hanging down to the bottom (vertically, as the name suggests). To cover a regular size slider, each vertical blind will contain approximately 25 vanes, leaving you with 75 "weak" spots.
What do we mean by weak spots? The potential spots the vertical blind could break. The first spot is the scissors, this will allow the vanes to move from left to right. The second spot is the gear pins, that allow the vanes to rotate and the third spot is the vanes clamps/pins/holders that attaches the vane at the top of the valance.
Over the years, these spots gets weaker and eventually needs repairs. Unfortunately the usually don't break all at once, leaving you with multiple similar service calls but for different vanes. Assuming that you have to pay someone for the repair and the parts, the fact that vertical blinds are cheaper to purchase initially, won't make up for the fees you will have to pay going forward.
Forces you to give up your view for privacy
To achieve full privacy with your vertical blinds, they need to be in closed position. As you open the vanes to let in light from either the left or the right side, you are also allowing bypassers to view one side of your room. In other words, you're creating privacy for half the room, while the other half is open for people to see in.
Compared to horizontal blinds or plantation shutters that open and closes the slats horizontally, allowing a good view out and still have privacy from anyone looking into your space. By tilting the louvers up towards your ceiling, you can see outside your window, but no one can see inside. The opposite would be true if you tilt your louvers down. This is why its so important to know how you should operate your window coverings for best result.
Doesn't provide UV-protection for your flooring and furniture
The same principle that applies to privacy, applies to the UV-protection of your home. If you open the vanes, the sun will hit your floor, furniture and ceiling on the one side that is open, while providing protection for the other half of the room. In comparison: horizontal blinds and shutters in open position as proposed (slats tilting up) will direct the sunlight up towards your ceiling, still offering protection for your furniture and flooring while allowing you to see out. To create the same protection with vertical blinds you would have to keep them in the closed position, giving up your view and natural light.
Takes up space on the wall in open position
If you want to use your patio door or window, you have to slide the entire vertical blind over to the side of your window or wall. This will leave a stack of vanes fully visible at all time. At SunCoast Blinds we don't think it's a visually pleasing addition to a home, and prefer window treatments that either disappear altogether when not in use, or that is always adding a beautiful visual element to the room.
Noisy and gets caught easily
The nature of a free hanging PVC vertical blind is that any exterior influence will cause it to rattle or make an unpleasant noise in your living space. People have a tendency  to walk through closed vertical blinds- due to laziness. This is obviously not ideal, and will lead to premature broken blinds. Same is true for not fully moving the blind going in and out a door, causing it to get stuck, dinged and dirty. Don't get us started on the nightmare of vertical blinds in conjunction with kids or pets.
What to choose instead of vertical blinds
After sharing our reasons for against vertical blinds, you are probably wondering what products we use instead?
At SunCoast Blinds we love the look and all the benefits that plantation shutters and the motorized screen shades provides. 
Read more about our favorites and why they're superior here: