Should I put plantation shutters on my sliding glass doors?
Plantation shutters for your sliding glass doors can be a very elegant way to dress your opening. Many people choose draperies or vertical blinds to decorate their windows. However, plantation shutters offer excellent light control and add a unique design element to any space.
The operation system of a shutter on a sliding glass door is different from a custom shutter on a window. Instead of swinging the panels open like a door they operate in one of two different ways; bypass shutters or bifold shutters.
Bypass shutters
Picture by Hunter Douglas 
Bypass shutters consists of panels attached to a track above the window. This track allows for the panels to slide left to right, just like your sliding glass doors. The track is often covered up by a decorative valance and adds a beautiful finished touch to your sliding glass door.
The panels on bypass shutters are large, so each section will have a divider rail. This divider rail will let you open and close the louvers of each section. It will give you privacy, but you can still control the amount of natural light and view-thorugh.
At SunCoast Blinds we love the bypass shutters in addition to the custom shutters on your windows. They create a beautiful unison look throughout the room. When meeting with clients, we recommend bypass shutters for less used sliding glass doors. For example, the bedroom sliding doors.
On sliding glass doors that are used more frequently, especially by guests, we are recommending motorized shades.
Also recommend reading: 
3 Best window treatments for sliding glass doors 
Bifold shutters
A bi fold shutter is a shutter that like the name says, folds together and stacks to the side. Some bifold shutters stack together out into the room. Other systems allow the panels to fold back against the wall.
We at SunCoast Blinds recognize that this look appeals to many clients. However, our years of experience have taught us that it often falls short in terms of functionality. It can work for smaller panels, but often fails for the larger sizes. This is why we recommend the bypass shutter or another product line, like motorized shades for our clients.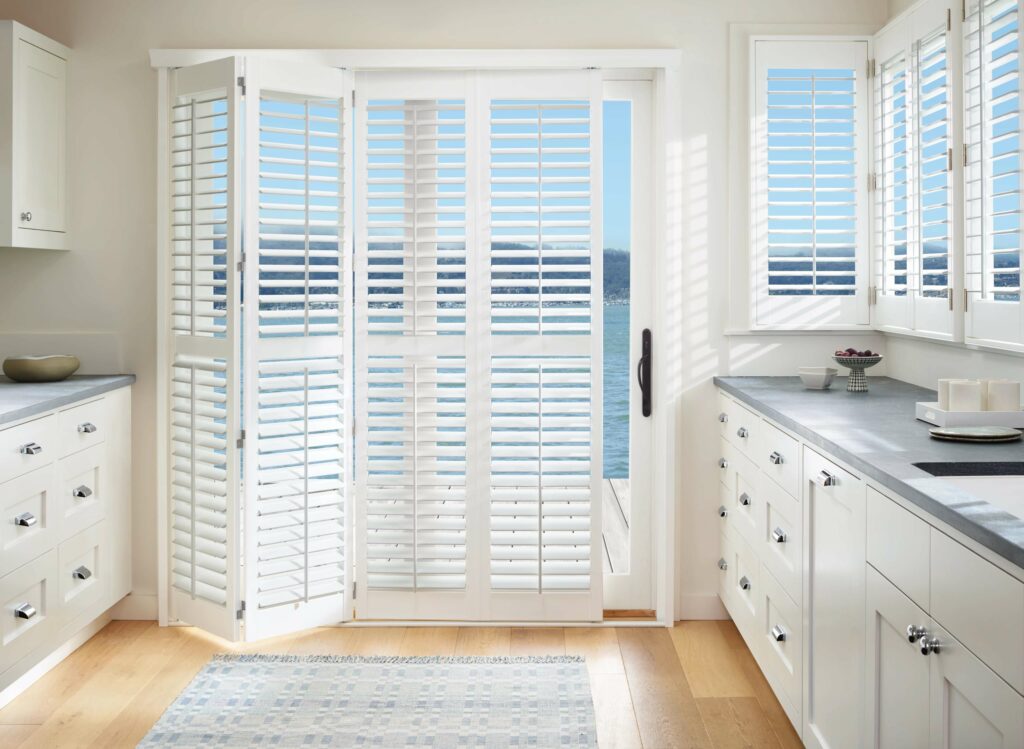 Picture by Hunter Douglas
Why choose plantation shutters on your sliding glass doors?
Durability – Shutters are extremely durable. At SunCoast Blinds, all our shutters comes with a 25-year warranty.
Privacy and light control is easy. Tilt the louvers to control how much privacy and light you let in.
Close the louvers at night to get a good nights sleep. Open just the top part of the panel in the morning while changing and getting ready. Doing so will allow for the light to come and still have total privacy from neighbors.
Low maintenance – Except for the occasional cleaning of your shutters, there is no maintenance.
Versatility – When designing your sliding glass door shutters you can pick between poly-resin shutters and premium wood shutters. Our poly-resin shutters comes in three different shades of white. The wood shutters are available in any custom color as well as stained wood.
Except the perfect color match. Shutters come with a variety of design options. This includes the size of louvers, tilt bar or clear-view, mid-rail location and valance design. There is no other window treatment that will allow you to customize the look as much as a shutter.
Schedule an in-home consultation
Are you still unsure if plantation shutters is the right option for your sliding glass door?
SunCoast Blinds offers in-home consultations or you can visit our studios in Bonita Springs, FL or Fort Wayne, IN.