The Benefits of Visiting SunCoast Blinds Studio in Bonita Springs
If you're in the market for window fashions you have probably noticed that most local companies in Bonita Springs have a showroom you can visit or offer free in-home consultations.
What is the benefit of visiting a showroom when a specialist still has to come to your home to measure your openings?
In this blog post, I will explain the experience you can expect from a visit to SunCoast Blinds Studio.
SunCoast Blinds- Your local window treatment specialist since 1992 
SunCoast Blinds is a full-service window treatment specialist in Bonita Springs, FL. At SunCoast Blinds we prioritize quality products, professional installations, and the customer experience.  This has been the foundation of SunCoast Blind's work since its inception. This is why we are not tied to one specific brand. Instead, we can pick the best brand for each product on the market.
This allows us to find the best solution for your home, without worrying about filling any sales limits like branded showrooms have to worry about.
At SunCoast Blinds we offer personal interaction from the start. That's why when you call us, you'll always speak to the owner – and if for whatever reason we miss your call, we promise to call you back as soon as possible.
We'd like to think that our interaction with our customers sets us apart from the rest. We don't play around with pricing or timelines. What we say at our initial meeting is to stay true throughout your process.
Working with us means you're getting a design-by-education experience. What do we mean by that? We're not trying to sell you something. We're trying to solve a problem together. As a customer, you must share what you want to accomplish for each opening as this will allow our specialists to give you the best product option to solve it. We believe that window treatments go beyond looks. That's why working with us is a BIGGER, BOLDER, BRIGHTER EXPERIENCE.
Visit Our Studio
Monday – Friday 9 am to 1 pm 
3634-A Bonita Beach Rd.
Bonita Springs, FL 34134 
6 Benefits Of Visiting Our Studio
See the products in real windows
Unique to our studio is that our products are displayed in actual windows. Why is this important?
It will give you a great understanding of how the product is going to look once it's installed in your home. But, it will also allow you to understand differences in fabric opacities, colors, view-throughs, and light leaks of products.
If you want to see the products in life-size rather than small samples, visiting our studio will remove any hesitation that you might have.
View all our samples
As our specialists visit your home for a consultation, they will bring a set of samples to show colors, fabrics, and louver sizes. But with hundreds of samples available in our studio, it is far superior to visit us at our location if you want to look through all the options available. This is especially true when you're looking at drapery panels, silhouettes, and other soft treatments.
Meet the expert
We understand that finding the perfect match when you are looking for window treatments doesn't solely come down to the product itself, but also the people you have to work with throughout the process. Visiting our studio is a neutral place to feel out if we're a good match for what you need, instead of bringing people to your home.
When you visit our studio you will meet the owner Ben Crotteau. He is also the one who answers all phone calls to SunCoast Blinds. Throughout a project with SunCoast Blinds, he is the contact person. So visiting our studio will provide you with a clear picture of how the SunCoast experience is.
Once you are in the showroom, Ben is available to discuss the pros and cons of different projects, leaving you well-informed going forward.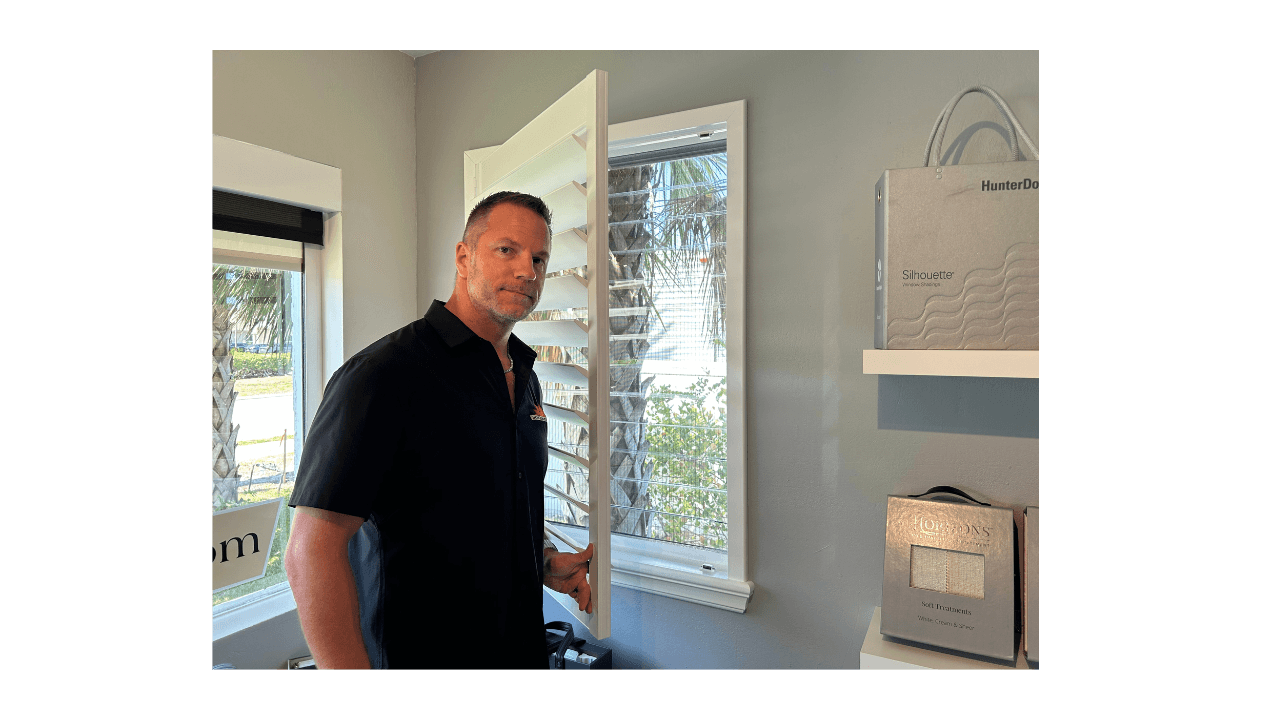 Quick-line to ordering during the high season
During the high season visiting our studio can allow a faster ordering time. As a lot of people schedule in-home consultations, the waiting line can sometimes be longer than normal. By visiting the studio and going over all the design options, all that's left to be done is to measure the openings. For this, we can send out our measuring specialist.
We've noticed that a lot of our customers come into our studio in addition to an in-home consultation, and a lot of them leave feeling that they're educated enough to go ahead and just schedule a  measuring appointment instead of a consultation. While other customers just like using it to put a face to the process. We're here for anything that will put you at ease.
Receive an Estimate
Receive an estimate of your project at your first visit.
All you have to do is bring in rough measures of each opening you want covered. Once in the studio, we can easily provide a price for your project once we nail down the product. This price won't change unless the sizes vary several inches from the measures you provided us with.
Colors and most design choices won't affect this price.
Educate Yourself
Whether you're building a new home or, you are at the beginning of the thought process of new window coverings- visiting our studio can help you get ideas and tips.
The world of window treatments can be overwhelming with brand names, products, and material options. Instead of spending hours online trying to educate yourself, you can visit our studio and get one-on-one time with a specialist who does this daily.
Meeting a specialist to discuss your specific situation will give you the fastest road to success. As an example: learn why you should have shutters in one window, and not in another. There is not one solution that fits all within the industry. At SunCoast Blinds we understand that our role goes way beyond offering superior products. Instead, we want to give you a positive experience unlike anything else.
Related Articles